LITTLE NOBODY presents REACTION HERO - VARIOUS - IF?/SHOCK
Besides being a renowned Melburnian DJ and IF? label boss who has supported internationals such as Jeff Mills, Squarepusher and Coldcut in recent times, Little Nobody is Andrez Bergen, Onion journalist par excellence. Unlike many reviewers (this scribe included), Bergen puts his creativity where his pen is, performing and constructing his own party starters for the people. Many succumbed to the cerebral beats of his Action Hero album, released March this year, turning the rare trick of uniting disparate genres into a cohesive body of speaker stormers.
Never one to shy from advice or assistance, Bergen recruited a myriad of national and international talents to reconfigure his Action Hero works, producing this Reaction double CD of lengthy, happenin' remixes. Hardly precious at all is our Andrez, nor cheap what with Reaction clocking in at a lazy 32 tracks. What you get is big names such as Tobias Schmidt, Si Begg and Brixton interpreting Andrez's Action, as well as Oz guns including Nick Littlemore, Cinnaman and B[if]tek's Nicole Skeltys.
There's a world of Cocaine Speaking, plenty of tech-house marathons and hours of intuitive, driving electronica. It's an enormous work and further illuminates Bergen's star. (8.5)
- JOHN CHALMERS, ONION MAGAZINE (ADELAIDE, AUSTRALIA), NOVEMBER 2001

LITTLE NOBODY presents REACTION HERO
(IF? Records/Shock)
4/5
Take one Little Nobody, a notorious indie electronic label, and a whole lot of remixers and the result is a double-CD of the most eclectic remixes around. Little Nobody, aka Andrez Bergen, has been a man around town for years.
Beginning his days as electronic music editor for industrial's 'Dark Angel', Andrez has paid his dues as remixer, editor, journo and all round nice guy. Being such a top cat, Andrez had the idea of inviting established local producers (Son of Zev, 5000 Fingers of Dr T and Nod), convincing overseas big guns (Tobias Schmidt, Si Begg) and extending the chance to a few talented no names (The Alcoiids) to take their hand at reworking some of his original tracks.
The result is a pleasing hodge-podge that travels the electronic train through the sounds of techno, drum and bass and way-out electronica. While the addictive 'Cocaine Speaking' appears as complete remix or tasty sample in many of the 32 tracks featured, the individuality of each producer dominates, producing one of the most interesting and unique remix albums around.
- CHLOE SASSON, 3D WORLD MAGAZINE, SYDNEY, AUSTRALIA - DECEMBER 2001
LITTLE NOBODY PRESENTS REACTION HERO
Various Artists
(If?/Shock)
Fans of a little leftfield electronic indulgence should look no further than this latest release from Melbourne's If? Records and label founder Little Nobody.
Featuring 2 CDs and some 46 tracks, 'Reaction Hero' follows on from Little Nobody's recent album 'Action Hero' with remixes from some of the world's most respected electronic artists. The release spans twisted hip-hop rhythms, weird breaks and quirky techno featuring names such as Tobias Schmidt, Si Begg and Yamaoka as well as new material from Mr Nobody himself. This is certainly a diverse and difficult listen, but well worth checking out for its innovation and forward thinking sounds.
-DANIEL STINTON, HYPE MAGAZINE, PERTH AUSTRALIA - OCTOBER 2001


Artist: Little Nobody
CDTitle: Reaction Hero
Label: If? dist. Shock
IF018
This has been around a while - I lost my copy temporarily, and I'm now rediscovering a whacking 32 remixes of tracks from Little Nobody's excellent Action Hero of earlier this year. I'm not sure about remix projects - they're getting popular. Be honest, do you think you'll ever look back and say "Kids, nothing could recapture the magic of the old remix project days"? Does it mean there are only a set few ideas in electronic music which are passed around ad nauseam by a bunch of like minded geeks?
Or does it mean the electronic music community is so equipped that to dash off a limitless spectrum of variations on a theme is the work of an afternoon? I'll take questions at the end, meanwhile lets pass Reaction Hero before the quartz-coated objective of the Electroscope. Andrez Bergen, for it is he, remains adept at locating film dialogue with the word "Nobody" in it
and calling in quality acts for collaboration. Tal's version of Action Hero is fabulously chaotic, as is the LN Elektronische Doors rockout from SBS's Alchemy, both standing our from and ocean of deep house remixes of Cocaine Speaking. The original version of Nobody's Driving from his previous album Pop Tart nestles pleasingly and helps the second disc flow, there are a couple of good versions of the single Bare with the scratchy, attenuated vocals of Marcella and a great version of Kinky Kabukist by 5000 Fingers.
The first disc hits the floor with four more, but wears off badly. Other remixers include Tobias Schmidt and Si Begg from the UK, Artificial, Beam Up and Steve Law from Melbourne, Vocoderman and Brixton from Europe and Magnet Toy and Yamaoka from Japan. Pnau's Nick Littlemore hides in there as B-Side Me.
It's hard to see the market for this when the original Action Hero album was good and so self contained, but nevertheless if you are a keen LN fan, better still a Cocaine Speaking nutter, there is some good music on here, and he's written very fulsome and entertaining sleeve notes on the collaborators.
- Jonathan Sykes - [clananalogue] Plastiq Digest 18.01.2002

=========================================
...and here's a review in Italian... go figure!
=========================================

REACTION HERO<cd> If?
Doppio cd di remix dall'album 'Action Hero' di Little Nobody, attivo nella scena indipendente australiana pił legata alle produzioni elettroniche. Uno spettro davvero ampio di lavori che spaziano dall'house all techno, includono divertissement digitali e astratte
sperimentazioni hip hop-drum'n'bass, confinando con altri generi che fra beats, breaks e cambi di atmosfere ci rendono ulteriormente partecipi, qualora si avessero ancora dei dubbi, di quanto la contemporaneitą in musica invada ogni angolo del pianeta. Molta carne al fuoco. Un primo cd con battute pił sostanziose, fra cui la bella prova di Thobias Schmidt in 'Devolution Maybe?' e una serie di massicci remix di 'Cocaine Speaking' provenienti da artisti locali, fra cui emerge in particolare la techno ispirata dei Son of Zed. Nel secondo CD, maggiormente frammentario e un po' dispersivo, segnaliamo in particolare 'Jammed Up in Dub' di Brixton, un electro mantra d'ispirazione germanica, e una straniata cover di 'Light my fire' a cura dei LN Elektronische Ensemble oltre ad un contagioso mix di mister Si Begg, alias Buckfunk 3000. Nel complesso una miscela di elettronici ingredienti, remix dance e sperimentazioni assortite testimonianza dell'effervescenza nella terra dei canguri.
- Aurelio Cianciotta Mendizza


BELOW: IF? goes live - the first Omniglobe party organised by IF? took place at the infamous Global Village warehouse in Footscray, Melbourne, on 23 September 1995 and featured live sets from Zen Paradox, Voiteck, Krang, Soulenoid, Guyver 3 and Sugar. DJs included Mad Rod, Ollie Olsen, Trooper, Digital Primate, Andrez, Caama and Klinikly Insane. Not bad for just $20 and a free CD.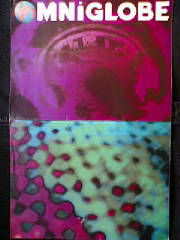 iffy people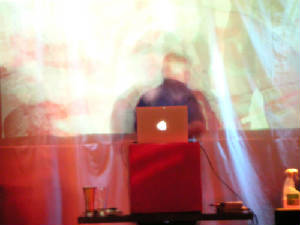 ABOVE: Isnod live (pic by Jason Maher)
BELOW RIGHT: DJ Bee-Dub gets venomous...
BELOW: Son Of Zev
ABOVE LEFT: Zen Paradox
BELOW: Voiteck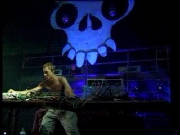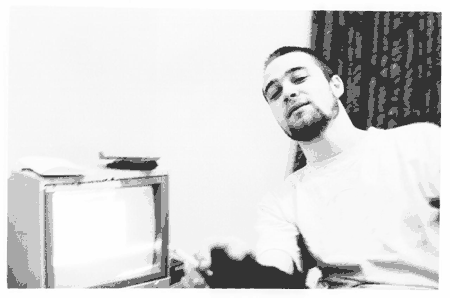 ABOVE: Soulenoid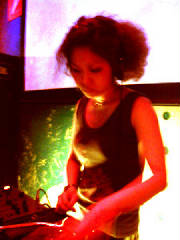 ABOVE: DJ Nof (Tokyo)
BELOW: Shigeru, aka Funkarmor (Tokyo)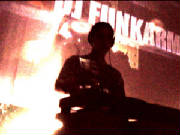 ABOVE: Yoko & Andrez doing the tacky tourist samurai thingy...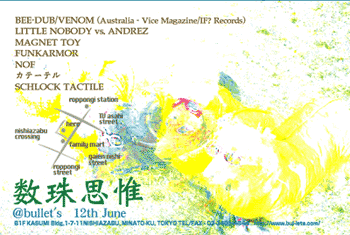 ABOVE LEFT: Zu-zushii @ Bullets, Tokyo, 12 June 2004... IF? does Japan (again)...
BELOW: the legendary, now-defunkt Punters Club venue in Brunswick St, Fitzroy, Melbourne... home of over 25 IF? live electronic muzak jaunts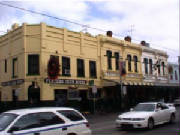 ABOVE: There were 13 Zoetrope parties run by IF? at the Punters from 1997 to 2001, featuring live sets from Voiteck, Zen Paradox, Frontside, Honeysmack, Sonic Voyagers, Artificial, Sub Bass Snarl, Isnod, Son Of Zev, Little Nobody, Blimp, Soulenoid, Tee-Art, Josh Abrahams, Marcella, US, Guyver 3, LNEE, etc.
little nobody @ electrofringe 2000 - online info ramble...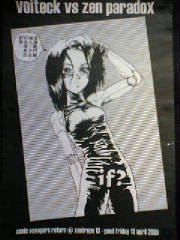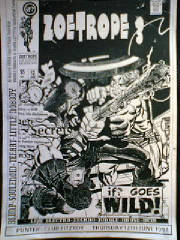 ABOVE: DJ Aktivated & Marcella

The Sultans Of Booze...? Andrez from Little Nobody (ABOVE LEFT) and Sydney's Kid Calmdown (BELOW RIGHT), a member of The Alchoiids

v DOWNSIDE: Members of the LN Elektronische Ensemble pose for good measure...
BIZARRE WEBSEARCH FIND #1
LN Elektronische Ensemble - debut gig propaganda

Wednesday July 19, 2000 - Written by:

The Scene
---
T H I S F R I D A Y - 21 JULY 2000

It's a concept that bleeds the anachronistic into the progressive. It's

a train of thought most definitely derailed. It pays homage to the

experimental tinkerings of John Cage, Karlheinz Stockhausen and Pierre

Schaeffer as much as it does to the Dadaist inclinations of Andr・Breton

and the Cabaret Voltaire. It's a mish-mash of musique concrete and

elektronische musik, with a somewhat perverted penchance for the bizarre and comical. It's to modern music what Louis and Bebe Barron's New York studio meant to 1950s sci-fi flicks like 'Forbidden Planet'. It takes

the piss out of all that way too cerebral experimental electronic

musicianship that goes down way too often in the name of 'art'. Quite

simply? ...it's the LN Elektronische Ensemble, a live freestyle meeting

of minds and brattish humour when Melbourne artists Little Nobody, Son

Of Zev and Nod get together for a jam. Expect Vera Lynn undercutting

Herbert Eimert with just a touch of Madame Butterfly and a lo-fi hip hop

beat. It happens at the Punters Club (376 Brunswick Street, Fitzroy) on

Friday 21st July from 1am to 3am, presented by IF?
BIZARRE WEBSEARCH FIND #2
Centriphugal Friday 13th July 2001
FINAL (OFFICIAL) LNEE SET PROPAGANDA
A last minute farewell hurrah from Melbourne's Little Nobody - who's moving to Japan in just two weeks' time.

Live: LN Elektronische Ensemble, Son Of Zev, Nod,

Venue: Centriphugal, 456 Queen Street

This Friday 13th July get along to Centriphugal for a last minute
farewell hurrah from Melbourne's Little Nobody - who's moving to Japan
in just two weeks' time.
Andrez (aka Little Nobody) is getting two evil cohorts along for the
ride in a live soundsystem free-for-all to knock your booties off!
Son Of Zev and Nod will get together with the Little one in one last
reprisal of the somewhat notorious LN Elektronische Ensemble. They came
last at Monash Uni's Battle Of The Bands, almost got thrown off-stage at
Offshore, bamboozled SBS Radio in a four-hour live session... and along
the way just happen to have covered The Doors, devastated jazz fusion
idealists, and supported Squarepusher and Spearhead.

This time expect a mish-mash of styles from techno and electro through
to house and the occasional 'Cocaine Speaking' sample. Plus a beat or
break or two.
Catch 'em this Friday - with the added attraction of a bunch of
giveaways from IF? Records - in the hallowed halls of their favourite
ghetto-techno club Centriphugal, alongside a bunch of this city's most
inspired DJs... 456 Queen Street, city. See y'all there!!!


BELOW RIGHT: Si Begg goes hands on as telephonist on the sitchboard of his Noodles Corp...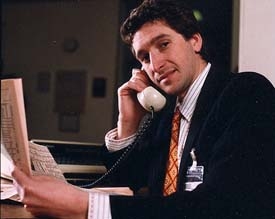 ...if? ring-ins by other sods on the net...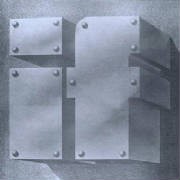 ABOVE: Industrial Form...?
BELOW: Cut-up
ABOVE: IFFY design ethic
BELOW: IF old-skool sci-fi extravaganza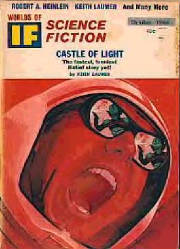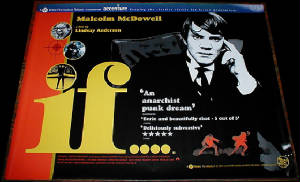 ABOVE: Malcolm McDowell in the film-version...
BELOW: IF... manga stylee!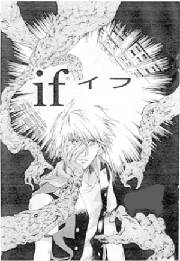 ABOVE: The Chateau D'If... believe it!!
BELOW: The big one. Big deal.