Yet Reinhard Voigt - the younger brother of Mike Ink's Wolfgang Voigt - has persevered with his own multi-faceted approach to electronica, and these days is respected for a bevy of diverse projects that cut across styles in often innovative fashion. And, as it happens, grudges or even a smattering of sibling rivalry seem to be the last thing on this man's mind. "We've got an unbelieavable relationship," he declares of his bond with Wolfgang, via recent email. "It's wonderful - and that will be till the very end, I really believe that."

Reinhard's success as a producer in his own right warranted his invitation to headline at the next Wire party, the fifth in the series of massive Tokyo shindigs, set to take place at Yokohama Arena this weekend.

If the previous events are anything to go by, then expect a broad-ranging musical approach from a wad of international deejays and live acts, aimed slap-bang at an up-for-it dancefloor in one of Asia's pre-emminent techno festivals.

"It's a great thing that that I'll have the possibility to play there," Voigt (the younger) enthuses, but not without personal reservations. "To be honest I'm little bit nervous about it. I really hope that everything will be cool."

Harking from German city Cologne - the stomping ground of rambunctious '90s techno luminaries Jorg Burger and Air Liquid's Ingmar Koch (a.k.a. Dr Walker), not to mention the more recent philanderings of Riley R. Reinhold (Triple R) and his Trapez imprint - Reinhard may have indeed emerged from his brother's shadow, but he obviously enjoys tweaking sounds with him. The Brothers Voigt have embarked on a vast number of collaborative projects and together with friends have run labels like Kompakt, Profan, Studio 1, Speicher and Auftrieb over the past decade, producing tracks that often bend the rules between kitsch and cool in delectable ways.

For many critics the late, lamented Profan was at the cutting edge of '90s electronica when it unleashed records by Reinhard's Pentax project and Wolfgang's M:I:5 and Diskoschleifen 2000 experiments. "Well, Profan is not over," Reinhard is quick to report. "I still have this special kind of feeling about the Profan sound. In that time Wolfgang and I produced records that were a typical '90s thing. I mean we found a music with only a bassdrum and bass; very minimal and abstract. We decided to stop with the label because it was time to go to the next step - but it's not 100 percent over."

The next step was the brothers' Kompakt outlet, and it's made sensational inroads with over 100 releases since the label's inception in 1998. Kompakt, as it turns out, is more than just a label - if its propagators are to be believed, it's a socialist-inclined collective that encompasses deejays, producers, a bunch of respected subsidiary labels, and regular clubnights and live music events.

"Kompakt is our mothership, and we're very happy that we have so many artists from everywhere," says Reinhard. "We've got an upcoming compilation called 'Total 6' - it's like a Kompakt showcase - and a forthcoming production by DJ Kose."

The Kompakt collective is also involved with subsidiary imprints Spiecher and Auftrieb. 'Speicher 7', produced by Wolfgang and Reinhard Voigt together, is one of the strongest of an extended (and enlightened) recent series of twelve-inches, fusing together as it does a form of alien electronica with propulsive techno - which augers well for his solo live set this weekend.

Reinhard's own material has appeared under a variety of distinct aliases such as Sweet Reinhard, Sturn, Kron, S.R.I. - and more recently as just plain Reinhard Voigt. "I used to have all these names because in that period of time I needed them - one name for this kind of music, one name for that. But later I made a break. I said to myself, 'Reinhard, from now on you take your real name for your music'. I'm happy I did that. It's not so complicated."

As a footnote, one of his best known tracks (released under his own moniker) is called 'Robson Ponte', and it's somwhat dubiously named for a famous player with German club Bayer Leverkusen. "Soccer is big everywhere!" Voigt declares with all-too-obvious glee; you can almost picture him rubbing his hands together. "Next year we have the FIFA World Cup in Germany, and as you can imagine it's gonna be an unforgettable party! About that track, it was more like the name - I had this groove in my system, I took the mic, and began to sing 'Robson Ponte, Robson Ponte', and it became the groove with that funny vocal... Oh my god, I liked it so much!"

Heads up Germany 2006.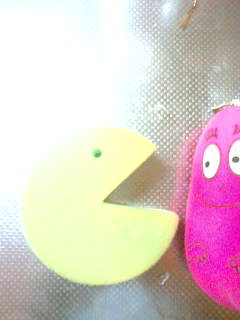 This text will describe the picture above... HAH!
If someone other than me has written an article, I'll be sure to include a byline at the bottom (yeah, right... heh-heh...).
This article is contributed by the Godzilla membrane implanted in the coffers of Andrez's brain.